Our 100% homemade pasties, at your next event
Discover our tailored and homemade catering service for your events, trade fairs and celebrations.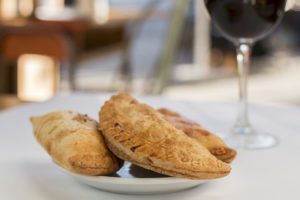 We love that fact that more and more people are able to enjoy the pasties that we lovingly make by hand in our own bakery. That's why we have been working with event planning organisations and trade fairs for many years.
We offer a tailored catering service for large celebrations, venues and restaurants as well as personalised advice. Which means, from the first time we meet until we deliver your order, you have all our support and assistance, so you don't have to worry about a thing.
.02
Selecting the most suitable product for your event.
.03
Making your selection in our bakery, where we use our 100% homemade method.
.04
Consultation on the best visual presentation of the product.
.05
Delivery of the product at the agreed upon date and time.
(*) This service is included for events of more than 50 people. For smaller celebrations, please ask!
Beef, chicken and fish pasties
A fusion of classic Argentinian and local recipes and our very own REKONS ones too.
Beef
Tuna
Ham
Chicken
Ham and cheese
Made with vegetables and including options that are suitable for both vegetarians and vegans. We're proud to say we've been one of the first in the city to offer vegan pasties to our customers.
Spinach
Pisto (similar to ratatouille)
Cheese and vegetable pasties
Delicious combinations for all cheese-lovers.
Aubergine and cheese
Onion and cheese
In both regular and miniature sizes.
Mamma's cakes and pies for your celebration
Would you like to be able to enjoy a delicious homemade cake at your event? Discover Mamma's bakery, where all of the cakes and pies are made using natural ingredients and baked according to the REKONS homemade method.
We can offer tailor-made orders especially for small events and celebrations.
REKONS, also offered in restaurants and gastronomic venues
If you have a restaurant or other type of gastronomic venue, you could also be offering our pasties to your clients so they can enjoy a 100% homemade product elaborated right here in Barcelona.
If you are organising an event or celebration, and you would like to receive further information about our pasties, please send us a message through the following online form and we will get in touch with you as soon as possible.